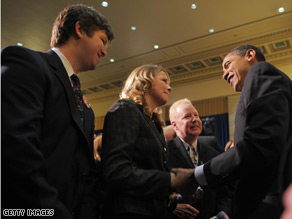 President-elect Obama greeted supporters during an event in Philadelphia before boarding the train to Washington.
ABOARD THE OBAMA EXPRESS (CNN) - This is not just a march through history and the Obama team certainly wants the Lincolnesque sort of symbolism to catch on.
But this is also a way to roll into Washington and try to keep that enthusiasm that Barack Obama saw on the campaign trail because there are so many tough times ahead.
The themes he wants to fit here are not just, "We need to get that spirit of patriotism, and we need to go back to what our forefathers believed in." He also said at the end of his speech let's make sure this election is not the end of what we do to change America, but the beginning.
So it's the sort of commonality - I'm going to need you - and certainly he is, even though out there if they are not people who vote on Capitol Hill, they are certainly people who can pressure Capitol Hill.
And as he looked ahead and talked about the frustrations and the setbacks that are coming, he wants this train ride to begin that role and say, "I know the election is over, but you [have] got to stick with me because I need it."
So it's a dual trip, a little history and certainly pushing very far into the future