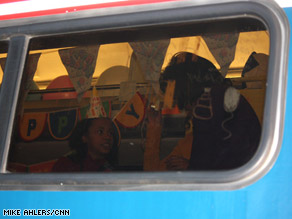 Michelle Obama's birthday was Saturday. She celebrated it aboard the Amtrak train that brought the President-elect and his entourage from Philadelphia to Washington
ABOARD THE OBAMA EXPRESS, JUST OUTSIDE WASHINGTON (CNN) - It is pitch black as the Obama train heads to Union Station in his new hometown of Washington, D.C. Still, you can see the outlines of people standing near the rails, waving as we whiz by.
Walking through the train, I spotted Michelle Obama dancing with her girls and friends in one of the cars decorated for her 45th birthday.
We are pulling into Union Station. The day is done.