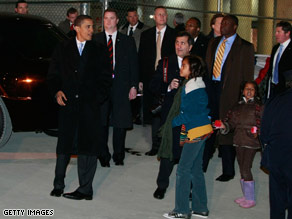 President-elect Obama collected his daughters after detraining in Washington Saturday evening.
WASHINGTON, AT UNION STATION (CNN) - It was quiet near the president-elect's train when it arrived, but inside Union Station, there was a lot of activity and a lot of noise from folks who knew they would not even get a chance to see him.
Watch: Obama arrives in Washington
People from all over the country and all over the world were at the station.
Asked what Obama meant to him, Terry Kinney of Georgia said it was how he will affect the future. "When I think about the Supreme Court justices that he might appoint and how it's going to affect my son," he said. "The economy is important, but when he appoints the Supreme Court justices, it's going to change my son and all of our kids' lives for over 50 years."
Eleven-year-old Grant Ibeh said Obama's presidency shows him that "my dreams can come true."
"I'm really excited of having him as our new president, and he's going to do well for this town," Grant said.
There are a lot of people in Washington who are eagerly awaiting the inauguration and happy just to be here, a lot of people who will be sleeping on cots, staying with family and staying with friends. A lot of them don't even have tickets, but they're here to share in this moment.