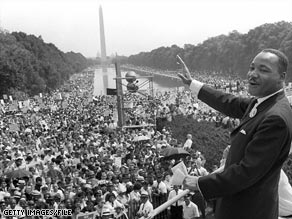 Martin Luther King Jr. waves to supporters from the steps of the Lincoln Memorial on August 28, 1963.
WASHINGTON (CNN) - More than two-thirds of African-Americans believe Martin Luther King Jr.'s vision for race relations has been fulfilled, a CNN poll out Monday found, a figure up sharply from a survey in early 2008.
The CNN-Opinion Research Corp. survey was released Monday, a federal holiday honoring the slain civil rights leader and a day before Barack Obama is to be sworn in as the first black U.S. president.
In it, 69 percent of African-Americans said King's vision has been fulfilled in the more than 45 years since his 1963 "I Have a Dream" speech - roughly double the 34 percent who agreed with that assessment in a similar poll taken last March.