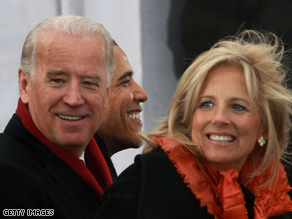 The Bidens appeared on The Oprah Winfrey Show Monday.
(CNN) - Joe Biden's office Monday denied the vice president-elect had ever been offered the position of secretary of state, hours after Biden's wife, Jill, suggested otherwise.
"To be clear, President-elect Obama offered Vice President-elect Biden one job only - to be his running mate," Elizabeth Alexander, a spokeswoman for Biden, said. "And the vice president-elect was thrilled to accept the offer."
The statement came after both Bidens appeared on The Oprah Winfrey Show, during which Mrs. Biden said her husband picked the No. 2 post over being secretary of state
"Joe had the choice to be secretary of state or vice president," Jill Biden said as her husband tried to cut her off.
"OK, he did," Mrs. Biden continued as the audience laughed. She also said she advised her husband being vice president would allow for more time at home.
"If you're secretary of state, you'll be away, we'll never see you, you know," she said. "I'll see you at a state dinner once in a while."
Biden himself has acknowledged he did discuss the possibility of becoming secretary of state with Obama, and described one specific conversation on the matter to the New Yorker last October.
"He said, 'You have a great interest in national-security policy, foreign policy,' " Biden said. "He wasn't offering me this, but he said, 'Would you rather be secretary of state instead of vice president?' And I thought a lot about that."