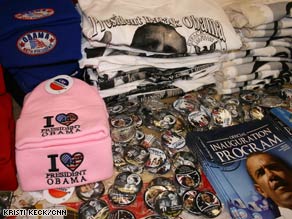 Hats, buttons and shirts are among the most popular items at the store where Vicki Starcher works.
WASHINGTON (CNN) - In a framed photo for sale at one of the many souvenir shops in Washington, Barack Obama looks more like a movie star than a politician as he exits a vehicle in a black suit, red tie and sunglasses.
The caption of the image, showcased in the front window of the store, reads, "Presidential Cool."
"He's a man of the people," said Vicki Starcher, who traveled from Norfolk, Virginia, to help set up the temporary store during the inauguration.
"I think the difference is with Obama, he has so much of the younger backing, BET ... and the hip-hop community," co-worker Jasmine Robinson chimed in.
Ebony magazine listed Obama was as one of the "Top 25 Coolest Brothers of All Time," alongside Tupac Shakur, Muhammad Ali, Jay-Z and Marvin Gaye.
The memorabilia decorating the streets of Washington and the images on magazine covers are a symbol that, to much of America, Obama is more than just the next president. He's also cool.
Cool enough to attraction millions to the Capitol; cool enough to have designers release a special line of inaugural items; and cool enough to have stars such as Beyonce, U2 and Stevie Wonder perform at a free concert to kick of the inaugural events.