WASHINGTON (CNN) - A spokesman for Texas Republican Sen. John Cornyn confirms he objected to a voice vote approval of Hillary Clinton's secretary of state nomination today.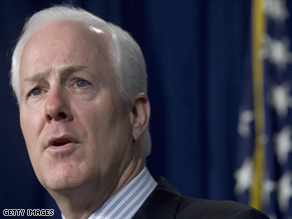 His office released a letter Friday he sent to the New York senator expressing concern that foreign donors to former President Bill Clinton's foundation might give the appearance of a conflict of interest.
"I remain deeply troubled that America's foreign policy and your diplomatic mission will be encumbered by the sweeping global activities of the Clinton Foundation … unless tighter foreign fundraising restrictions and transparency protocols are adopted by your husband's organization," Cornyn wrote in the letter.
"Put simply, the Foundation's refusal of foreign-source donations while you serve as Secretary of State is in this nation's interest. But I am willing to consider other options to reduce the likelihood of real or perceived conflicts of interest that will result from foreign donations."