(CNN) - Wireless service was spotty in downtown Washington on Tuesday morning as hundreds of thousands of people tried to share Barack Obama's historic inauguration through cell-phone calls and text messages to family and friends.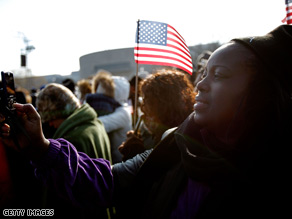 "I got some photos through earlier. But now they're just not going through," said Barbara Talisman of Chicago, Illinois, standing on the National Mall about 10 a.m. "People want to know what's happening, so I'm trying to send them live pictures."
Wireless carriers beefed up their Washington-area networks in anticipation of heavy cell-phone traffic, and as of 11 a.m., their efforts appeared to have paid off. Despite handling three to five times the usual volume of calls from the mall on Tuesday morning, Verizon Wireless reported few problems.
"The vast majority of calls are going through on the first attempt," Verizon spokesman John Johnson said. "We're very pleased so far."
"So far, our network is doing very well," AT&T spokesman Mark Siegel said. "We are seeing some minor congestion, but that's to be expected." Call volume Tuesday was much higher than usual, he said.
Up to 2 million people were expected to pack downtown Washington for the inaugural festivities. Most of those people were likely to be carrying a cell phone, and many tried to capture words and images to share with family and friends.
The recent growth of smart phones, which use 2G and 3G networks to access the Web and receive data, could slow things down even further, industry experts said. Some people reported delays in sending and receiving BlackBerry messages from Capitol Hill on Tuesday morning.
"We've done virtually everything that can be done to add capacity to our existing network," Johnson added. "But even the best network is like a highway system. We've added thousands of lanes, but millions of cars can still cause a traffic jam."
AT&T Wireless has boosted its wireless network capacity by more than 69 percent along the parade route, Siegel said. Obama's inaugural parade was scheduled for 2:30 p.m. ET.
In anticipation of record-breaking crowds and huge spikes in wireless traffic, carriers added new radio channels to augment existing cell sites, trucked in portable cell-phone towers, boosted wireless capacity at downtown hotels and added staff.
Carriers also expanded what they call their backhaul systems, which carry wireless traffic from cell phone towers to the land-line network through which those calls are routed.
Reports surfaced this week that the U.S. Secret Service might disable or limit cell phone service on Inauguration Day to preserve bandwidth for emergency government users. But a Secret Service spokesman told The Washington Post that the agency had neither the capacity nor the plans to do so.