WASHINGTON (CNN) - President Obama pledged during his inaugural address that the United States would begin a withdrawal of troops from Iraq, but not waver in the defense of the American "way of life." He also pledged to push for victory in the war on terror.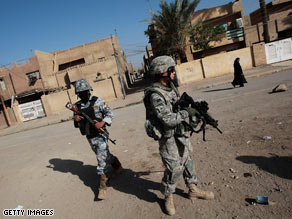 "We will begin to responsibly leave Iraq to its people, and forge a hard-earned peace in Afghanistan," Obama said.
"With old friends and former foes, we will work tirelessly to lessen the nuclear threat, and roll back the specter of a warming planet. We will not apologize for our way of life, nor will we waver in its defense, and for those who seek to advance their aims by inducing terror and slaughtering innocents, we say to you now that our spirit is stronger and cannot be broken; you cannot outlast us, and we will defeat you," the president stated.