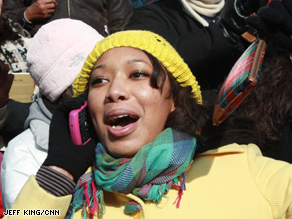 Ashley Jeter is a student at Virginia's Hampton University.
WASHINGTON (CNN) - In stands along the parade route, Ashley Jeter shared the moment of Barack Obama's inauguration with her Aunt Collette in Charlotte NC. "I was screaming, excited, joyful. My aunt was screaming too," said Jeter.
Jeter traveled with her friend Courtney to Washington from Hampton University in Virginia where they are freshmen. Both young women were first-time voters in this presidential election, and dedicated Obama supporters who got up at 4 am on Election Day. After celebrating all night Monday, they set out set out at 5 am Tuesday morning to get to their spot on the parade route.