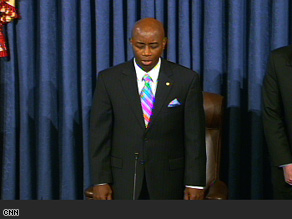 Senate chaplain Barry C. Black prays for Sen. Kennedy Tuesday.
WASHINGTON (CNN) - Sen. Orrin Hatch said Tuesday Sens. Dodd, Kerry and Hatch all accompanied Kennedy to the ambulance after he collapsed at the Capitol luncheon held in honor of President Obama.
"He looked like he was going to be ok. We all prayed for him," Hatch told CNN producer Evan Glass.
On the Senate floor, the chaplain offered a special prayer for the Massachusetts senator. "In a special way today, we ask for your healing hands to be placed upon Senator Teddy Kennedy," he said. "Oh god, you are a healer, and we claim your promise that if we will ask in faith, you will respond."
Sen. Patrick Leahy just said that after Kennedy had problems, President Obama went to the area. "He came back and seemed very, very concerned. He spoke to others and asked for a moment of silence," said Leahy.