GAZA CITY, Gaza (CNN) - As Barack Obama took the oath of office Tuesday, the head of the United Nations was touring war-ravaged Gaza and southern Israel - and taking the opportunity to send a message to the new U.S. leader.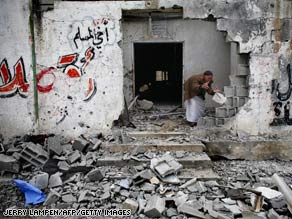 A Palestinian man throws debris out of his destroyed house in Jabalia, northern Gaza Strip on January 20, 2009.
"I sincerely hope that President Obama will take as a matter of priority these Middle East policies," U.N. Secretary-General Ban Ki-moon told CNN, when asked his advice for Obama.
Speaking during a visit to Sderot, a city in southern Israel that has endured rocket fire from Hamas for years, Ban said the Bush administration "has been leading and heavily engaged" in the region, and he noted the "Annapolis peace process." But, he added, "Unfortunately, we have not achieved the goals."
As a member of the Middle East Quartet and "as a leader of the world," Ban said, the United States "has full responsibility to lead this peace process so that there's a two-state solution. Israel, Palestinians can live (in) peace
and security side-by-side."
Obama has vowed to move swiftly and has said he was assembling a strong team to be "immediately engaged" on "day one."
Ban used his visit Tuesday to call on Israeli and Palestinian leaders to take big steps toward peace as well.
"The repeated violence felt by Palestinians and Israelis is a mark of collective political failure," he said.
Speaking less than three days after Israel and the Palestinian militant group Hamas each agreed to a cease-fire to end three weeks of intense fighting, Ban had strong words for both sides.
"I have condemned from the outbreak of this conflict the excessive use of force by Israeli forces in Gaza. I view the rocket attacks into Israel as completely unacceptable. We need to restore basic respect for civilians," he said.
More than 1,300 Palestinians died and about 5,400 others were wounded during Israel's three-week offensive in Gaza, according to the Palestinian Authority's Central Bureau of Statistics.
Israel has said 13 of its citizens, including 10 soldiers, were killed.
Ban described seeing "heartbreaking scenes" and said he was "deeply grieved by what I have seen today."
He also called on rival Palestinian factions - which have a history of violent struggles - to come together. "Palestinian unity is the framework for international agreements to be restored, for crossings to be opened, for the whole world to help you build Gaza, for elections, for political negotiations with Israel," Ban said.
"I appeal to Fatah, Hamas, to all Palestinian factions, to reunite within the framework of the legitimate Palestinian Authority. The United Nations will work together with a united Palestinian government encompassing Gaza and the West Bank."
The visit to Gaza included a dramatic backdrop - the burned-out shell of a U.N. compound that had been struck by Israeli shells.
"I'm just appalled. I'm not able to describe how I am feeling having seen this site," he said, adding that he could smell the facility still burning. "It is an outrageous and totally unacceptable attack against the United Nations."
In a meeting last week, Israeli Prime Minister Ehud Olmert told Ban that Israeli forces had come under militant fire from the area and were retaliating.
"I don't think it should have happened and I am very sorry, but the Israeli forces were attacked," he said, adding, "As it happens the response was very harsh and I'm very sorry."
Ban met again Tuesday with Olmert. A spokesperson for Ban said the secretary-general told Olmert that the United Nations will play a pivotal role in providing humanitarian assistance to the people of Gaza as well as aiding long-term recovery and reconstruction.
–CNN's Nic Robertson contributed to this report.