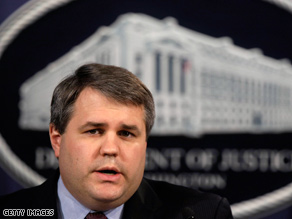 Mark Filip is a Bush holdover.
WASHINGTON (CNN) - Acting Attorney General Mark Filip who served as Deputy Attorney General under former President Bush has taken the reigns at the Justice Department while awaiting the confirmation of Eric Holder.
A Senate committee is currently scheduled to consider Holder's nomination as Attorney General later Wednesday, but some Republicans on the panel have indicated they plan to seek a delay because of lingering questions about Holder's role as Deputy Attorney General during the Clinton Administration.
The balking Republican lawmakers have indicated they want additional answers from Holder, who appeared before the panel last Thursday. The threat of a delay prompted a strong reaction from Committee Chairman Patrick Leahy, D-VT.
"It would look like a horrible double standard for those who enthusiastically voted unanimously for Alberto Gonzales to turn down the first African-American, or hold up the first African American to be Attorney General," Leahy said.
Some GOP congressional aides have privately pointed to Democratic opposition to the more recent nomination of retired judge Michael Mukasey, whose nomination was saved only by a dramatic break with Leahy by Democratic Senators Charles Schumer of New York and Dianne Feinstein of California.
Democrats uniformly support the Holder nomination, and have the needed votes to pass the nomination, but rules may allow Republican objections to delay the proceedings.
Meanwhile, Filip and a cadre of career lawyers kept a low profile as they ran the wide-ranging functions of the dozens of Justice Department Divisions and Offices Wednesday.
Only the Acting Attorney General in the Civil Rights Division issued a public statement. Loretta King vowed the Department would continue to prosecute police who harm inmates.
King cited a jury conviction last week of a former Florida State Prison official who poured scalding water on a prisoner to punish him for feigning injury and lying on his jail cell floor. Paul Tillis was found guilty of pouring near scalding water on the victim's chest and then failing to arrange medical treatment for the second degree burns which resulted from his actions.
"While the vast majority of law enforcement officers carry out their in a lawful and professional manner, the "Department of Justice will continue to vigorously prosecute those who cross the line and commit this type of unlawful act," King said.
The former prison official faces up to ten years in prison and $250,000 fine.