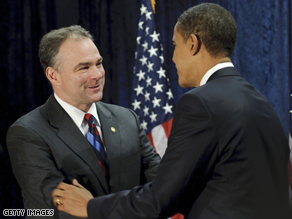 Obama tapped Kaine to head the DNC.
WASHINGTON (CNN) - There's a changing of the guard Wednesday as the Democratic Party holds its annual winter meeting.
Democratic National Committee members are expected to elect Virginia Governor Tim Kaine as DNC chairman. Earlier this month then-President-elect Barack Obama announced his decision to appoint Kaine to lead the Democratic Party.
Kaine will succeed outgoing DNC Chairman Howard Dean, who's held the job for the last four years. Both Dean and Kaine are expected to make remarks at today's meeting.