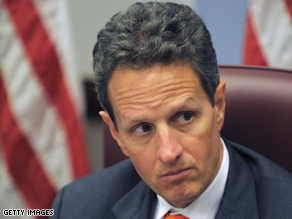 Geithner is testifying on the Hill this morning.
NEW YORK (CNNMoney.com) - Treasury Secretary-designate Tim Geithner called for bold action to blunt the economic downturn and promised to tighten the terms for companies getting federal financial help.
In prepared remarks to be delivered Wednesday morning before the Senate Finance Committee, Geithner called on senators to support the Obama administration's $825 billion stimulus plan. The comments come as the Senate panel prepares to consider whether to confirm Geithner as the nation's top financial officer.
"Senators, the ultimate costs of this crisis will be greater, if we do not act with sufficient strength now," Geithner's testimony read. "In a crisis of this magnitude, the most prudent course is the most forceful course."