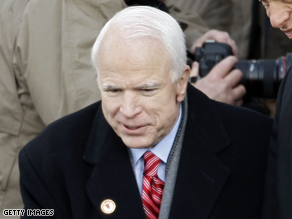 McCain urged a quick vote to confirm Clinton.
(CNN) - John McCain on Wednesday used his first Senate floor speech since the end of the presidential campaign to urge his colleagues to quickly confirm fellow Sen. Hillary Clinton as secretary of state.
"I think the message that the American people are sending us now is they want us to work together and get to work," McCain said. "I think we ought to let Senator Clinton, who is obviously qualified and obviously will serve, get to work immediately."
The Senate is expected to easily confirm Clinton Wednesday afternoon, and McCain's particular support of the New York senator isn't surprising.
McCain confidantes tell CNN the Arizona senator developed a genuinely deep admiration for Clinton during the drawn-out Democratic primary process. Both senators also sit on the Armed Services Committee and had become close on several congressional delegation trips abroad.
McCain's Senate floor speech comes as the Arizona senator is planning to get back in the spotlight after keeping a low profile in the three months after the election. McCain aides told CNN the former Republican presidential nominee has pledged to work with President Obama on a range of issues on which the two agree.