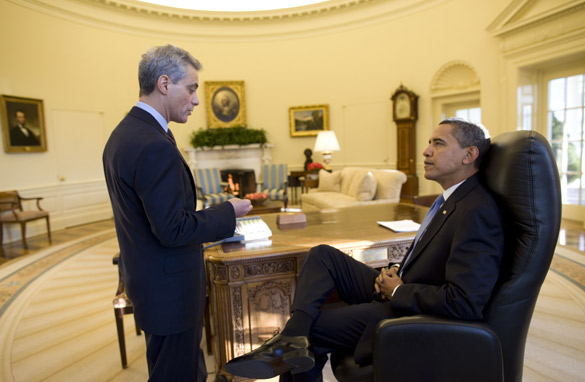 President Obama met with his Chief of Staff Rahm Emanuel in the Oval Office Wednesday morning. (Photo Credit: White House photo)
WASHINGTON (CNN) - President Obama began his first full day in office with a moment of solitude in the Oval Office, reading a note from his predecessor, before making phone calls to Middle East leaders.
Obama arrived in the Oval Office at 8:35 a.m., according to White House Press Secretary Robert Gibbs. The president spent 10 minutes alone, reading a note left for him in the desk by outgoing President George W. Bush. The note had been placed in an envelope with a note saying: "To: # 44, From: # 43."
White House Chief of Staff Rahm Emanuel met with the president 10 minutes later to discuss the daily schedule, Gibbs said.
Obama called Middle East leaders, according to a senior administration official, including King Abdullah of Jordan, Israeli Prime Minister Ehud Olmert, Palestinian Authority President Mahmoud Abbas and Egyptian President Hosni Mubarak.
On Sunday, Israel and Palestinian militants declared a cease-fire after 22 days of fighting in Gaza.
First lady Michelle Obama joined her husband in the Oval Office at 9:10 a.m., shortly before the first couple departed for the National Prayer Service at the Washington National Cathedral.
President Obama's faith "is a central part of his life and he will begin the first full day of his administration with a service of interfaith prayer and reflection," said Presidential Inaugural Committee Communications Director Josh Earnest.
"The National Prayer Service, which will embody the themes of tolerance, unity and understanding, is a worship service for all Americans."
Later in the day, Obama is expected to meet with his economic team and top brass from the Pentagon.