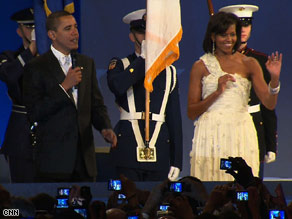 Michelle Obama, dressed in Jason Wu, and President Obama at the Home State Ball Tuesday night.
(CNN) - President Barack Obama and first lady Michelle Obama were dancing their way through 10 official inaugural balls after a day of pomp and circumstance that saw his first presidential address and excitement about her inaugural dress.
Watch: Obama's hit the dance floor
The Obamas were serenaded by Beyoncé during their first dance at the Neighborhood Ball Tuesday night.
Beyoncé sang Etta James' "At Last," from her role in the movie "Cadillac Records" as the couple laughed and took their first spin around the dance floor.