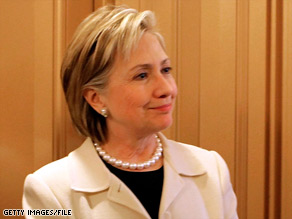 Hillary Clinton will attend a Senate hearing Wednesday on her nomination to be secretary of state.
WASHINGTON (CNN) - The Senate is set to vote Wednesday on whether to confirm Hillary Clinton as secretary of state.
Sen. John Cornyn, R-Texas, objected Tuesday to the confirmation, preventing the Senate from voting by unanimous consent. His objection means that the Senate will hold a roll call vote on Clinton's nomination Wednesday.
Cornyn said he knows Clinton will be confirmed, but said he delayed the vote because he wanted more time to talk about the foundation run by Hillary Clinton's husband, former President Bill Clinton.
Bill Clinton signed an agreement with the Obama transition team pledging to limit foreign donations and to release annual disclosures of new donations to his foundation.