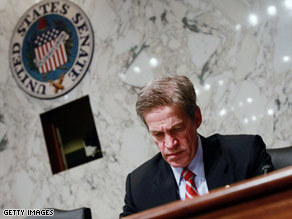 Minnesota's Norm Coleman predicts he'll be back in the U.S. Senate after his legal battle.
WASHINGTON (CNN) - Sen. Norm Coleman began packing his Capitol Hill office Wednesday, but said he has no intention of giving up his legal fight to serve another term in Congress.
Coleman, a Republican from Minnesota, trails Democrat Al Franken by 225 votes. But in an interview with CNN, Coleman claimed Franken's lead was "artificial" and expressed hope that the Minnesota courts will rule in his favor on ballot disputes when a court hearing begins next week.
"I really do have a sense of confidence that this will work itself out the right away," Coleman said.
Franken, the comedian-turned liberal talk show host, was also on Capitol Hill on Wednesday meeting with Senate Majority Leader Harry Reid, D-Nevada, "to discuss the legislative agenda, especially the economic stimulus" plan, a Reid spokesman said.