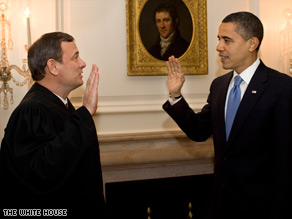 President Barack Obama takes the oath of office - his second in two days - in the White House on Wednesday.
WASHINGTON (CNN) - What a long, strange trip Barack Obama's first full day as president turned out to be.
He began the day pushing for more transparency in government, only to end it by keeping TV cameras out when Chief Justice John Roberts re-administered the oath of the presidency.
All this started at Obama's historic swearing-in on Tuesday, where Roberts flubbed a line in the oath of office, leading to this comical scene, via transcript at CNN.com: