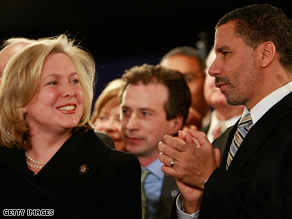 Gillibrand is already raising money for her 2010 bid.
WASHINGTON (CNN) - Kirsten Gillibrand officially gets sworn in Tuesday as the junior senator from New York — but her campaign to keep her new job has already begun.
The former congresswoman has to defend her new seat in 2010. So she's already out with a fundraising e-mail to supporters, noting the tremendous costs involved in running a statewide campaign in New York. "[S]uch outreach will cost a substantial amount of money," she writes. "I hope you remain, as I do, undeterred by this challenge. I hope you will join me in building a well-funded campaign."
If she wins next year's contest to serve out the remaining two years of HIllary Clinton's Senate term, Gillibrand will be up for election again in 2012.
The moderate Democrat from upstate New York's 20th congressional district is known as a strong fundraiser who vastly out-raised her Republican opponent in her 2008 re-election campaign. She has already begun the process of closing her House campaign fundraising committee, and moving the $272,000 she had on hand as of the end of last month over to a newly created Senate campaign fundraising committee.
Gillibrand gets to take the oath of office twice today: first comes the official oath on the Senate floor. Then, a bit later, Vice President Joe Biden will administer a re-enactment of the swearing-in in the Old Senate Chamber.