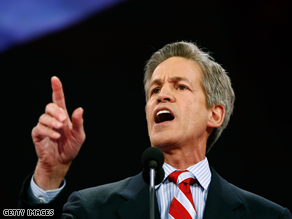 Former U.S. Sen. Norm Coleman made a surprise appearance in court Monday as his lawyers began arguing that he should get his old job back.
ST. PAUL, Minnesota (CNN) - Former U.S. Sen. Norm Coleman made a surprise appearance in court Monday as his lawyers began arguing that he should get his old job back.
"Obviously we are at a critical moment right now in this whole election process and it's because it is important to me and important to the people of Minnesota that I wanted to be here, and I wanted to observe," said Coleman, who is challenging the results of November's Senate contest. "I'm not sure how long this process will go, and I'm not sure how exciting its going to be."
Coleman is asking a three-judge panel to overturn the results of the Minnesota Senate recount, which put Democrat Al Franken in the lead with 225 votes. His attorneys began presenting their case Monday in a trial that could last months.
But the judges forced Coleman's team to detour significantly from the way it had wanted to present the first stage of its contest, barring them from using annotated copies of absentee ballots his lawyers argue were improperly excluded from the recount.
"We are going to require the originals, because it's not apparent to the panel that the witnesses can explain all the markings that are on these proposed exhibits and how they differ from the originals that were provided," District Judge Kurt Marben said.
The court's decision will likely force the delivery of 12,000 original rejected ballots to the courthouse. The Coleman campaign would then have to sort through those to present the 5,500 that they feel were rejected in error.
"The absentee ballot issue controls what happens here," Coleman attorney Joe Friedberg told the court.
Coleman's attorneys maintain that no consistent standard for excluding ballots was followed statewide, causing some absentee ballots to be rejected - whether through fault of the voter or fault of the election worker - while others were accepted even though a similar fault was present.
Friedberg said the only way to make sure the court included all proper votes was to introduce them as evidence "ballot by ballot." And that's exactly what he and his team began doing, until District Judge Denise Reilly asked what certain handwritten markings meant located at the top of a select number of the ballots being presented.
A Coleman witness pointed out that the markings were notes put on the copies by the former senator's staffers. That spurred objections from Franken's lawyers, who questioned the authenticity of the annotated exhibits.
Coleman's campaign had two other parts to its case - one surrounding hundreds of ballots that may have been double-counted, and one that involves stacks of hundreds of ballots that may have gone missing during the recount. However, they had not expected to get to those until next week, Friedberg told the court.
Speaking to reporters after the day had ended, Coleman legal spokesman Ben Ginsberg could not say what aspect of their case they would turn to Tuesday, since the thousands of originals would all but certainly not be delivered in time.
Franken's argument centers largely around the fact that, as they maintain, errors happen in elections and that they are acceptable.
"An imperfection is not enough to overturn an election," Franken attorney Kevin Hamilton said during opening arguments.
Hamilton used a PowerPoint presentation and at one point displayed a note written by Coleman lawyer Tony Trimble during the recount process that he said makes it clear that the Coleman campaign had at one point felt that if a ballot was missing a signature it should not be counted. He claims this is counter to their case now.
Both he and fellow Franken attorney Marc Elias have maintained the Coleman campaign is "casting a wider net" for votes in this stage as a "deathbed conversion."
Hamilton also feared that a trial completed in Coleman's ideal world would extend well into summer.
Asked whether Franken would attend any of the proceedings as Coleman had, Elias said, "I don't anticipate so." A Franken aide said the former comedian and potential senator was at his home in Minneapolis on Monday.