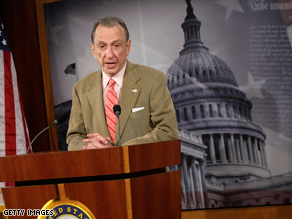 Specter could announce whether he will support Holder Tuesday.
(CNN) - Sen. Arlen Specter, the ranking Republican on the Senate Judiciary Committee, is set to hold a press conference Tuesday on the nomination of Eric Holder, President Obama's choice to be attorney general.
It's likely Specter will announce whether he will vote to confirm Holder when the committee convenes Wednesday.
Earlier: Holder confirmation hearing delayed a week
Specter's decision could significantly affect how many Republicans ultimately vote against one of the president's most controversial cabinet appointments.
The press conference is scheduled for 2:45 p.m. ET.