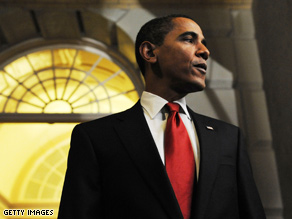 The House is set to weigh in on the stimulus plan today.
NEW YORK (CNNMoney.com) - President Barack Obama will face the first real test of his push for a stimulus package on Wednesday, as the House of Representatives prepares to vote on the bill later in the day.
Obama and House Democrats etched out plans for an $825 billion package in the weeks leading up to the president's inauguration, and two House committees have amended and modified the provisions for $550 billion in spending and $275 billion in tax cuts over the last two weeks.
House Speaker Nancy Pelosi on Tuesday called the bill "most critical piece of legislation [Congress] will consider this session," arguing that the bill supports jobs, tax cuts and accountability to taxpayers.