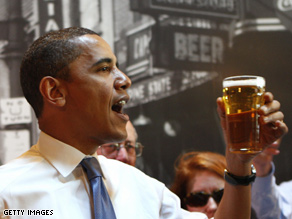 Above: Obama lifts a cold one during the campaign season.
(CNN) –- Even if they disagreed on the stimulus bill, President Obama and a dozen bipartisan members of Congress can agree on the post-vote agenda: the group will raise their glasses at the first cocktail party in the new president's White House on Wednesday night.
The president and first lady were slated to host a reception for the leaders from both houses of Congress and their spouses this evening, after the House voted on Obama's $819 billion economic stimulus package. The cocktail reception is scheduled to start around 7 pm.
On the Democratic side, invites have been extended to Senate Majority Leader Harry Reid, Illinois Sen. Dick Durbin, New York Sen. Chuck Schumer, Washington Sen. Patty Murray, West Virginia Sen. Robert Byrd and New Jersey Sen. Bob Menendez. Speaker Nancy Pelosi and Maryland Rep. Steny Hoyer are also reportedly invited.
The list of Republicans invited includes Senate Minority Leader Mitch McConnell, Tennessee Sen. Lamar Alexander, Arizona Sen. Jon Kyl, Texas Sen. John Cornyn and Nevada Sen. John Ensign. House Minority Leader John Boehner and Virginia Rep. Eric Cantor are also reportedly invited.
- CNN's Ed Henry and Ted Barrett contributed to this report