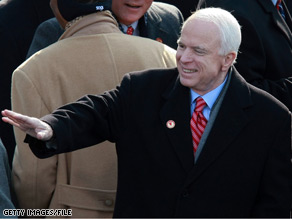 The DNC said Thursday that it wants to participate in an RNC lawsuit challenging a provision of a campaign finance reform law co-sponsored by Sen. McCain.
WASHINGTON (CNN) – The Democratic National Committee is backing a piece of trademark legislation championed by former GOP presidential nominee Sen. John McCain - asking the courts to allow it to defend the McCain Feingold campaign finance reform law against a challenge by the Republican National Committee.
The Bipartisan Campaign Reform Act of 2002, commonly known as the McCain Feingold bill after its two Senate sponsors, banned so-called "soft money" – funds not subject to federal contribution limits and other restrictions – from use in federal elections and, at the same time, increased the contribution limits for "hard money," or money subject to federal limits and restrictions.
Originally filed last November, the RNC's suit challenges the law's soft money ban on the grounds that it violates the national party's right under the First Amendment to engage in political speech and other political activity.
In an effort to defend the law, the DNC announced Thursday that it wants to participate in the RNC's suit against the Federal Election Commission.
"Cloaked in the veil of a constitutional challenge, the RNC is callously attempting to dismantle needed reforms to make up for their fundraising deficiencies," DNC General Counsel Robert Bauer said in a statement.
Read: The DNC's motion to intervene
In its filing with a Washington, D.C. federal court, Democrats argue that the Republican Party's motives are purely tactical.
"Faced with a comparative disadvantage in raising 'small donor' hard money, the RNC is looking to travel back to the pre-[McCain-Feingold] era in campaign finance, regaining the license to raise unlimited soft-money donations," the DNC's motion says. The RNC's suit "is a tactical move to roll back reforms and obtain redress for its own competitive difficulties," the DNC also told the court.
The RNC reiterated Thursday that it believes the soft money ban is unconstitutional.
"The RNC is fighting for the same thing our founders fought for: the right to speak and associate freely," RNC Chairman said in an e-mail to CNN Thursday. "The campaign finance regime that governs political party activity unconstitutionally infringes upon these rights, and it should fall," Duncan added.