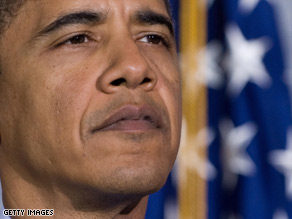 Obama has reached out to congressional Republicans.
WASHINGTON (CNN) – One person definitely won't be winning the topsy-turvy race to lead the Republican National Committee: Barack Obama.
But to some of the RNC members who arrived in Washington this week for their organization's annual Winter Meeting, the new Democratic president isn't all that bad ... yet.
Obama's early efforts at bipartisan outreach - on Capitol Hill Tuesday to pitch his stimulus package and at an off-the-record White House cocktail reception on Wednesday - have a few members thinking the president isn't off to a terrible start.
Longtime GOP operative Ron Kaufman, a committee member from Massachusetts, remembers when George W. Bush visited House Democrats at their annual retreat in Pennsylvania back in 2001. But it took six years before Bush tried again. Kaufman thinks that was a mistake.
"Good communication is always better than no communication," he said. "If you listen to the media after Obama's trip to the Hill, it was a wasted effort. No, it's a first step."
Glenn McCall, a committee member from South Carolina, doesn't agree with Obama's policies, but like Kaufman, he appreciates that the new president is at least talking to Republicans.
"I think it's great that he wants to reach out, as long as Republican elected officials don't waver in their core values," he said. "I think we should work together. We can't be the party of 'No.' We have to bring solutions and ideas to the table when we oppose them."
Said Jim Greer, the Florida GOP chairman: "I do I think President Obama has demonstrated his commitment to getting out, to listening to what the American public is concerned about."
But while some members are taking a wait-and-see approach with the new president, many in the committee doubt Obama is truly committed to working across the aisle. Changing the tone in Washington, members say, will only happen if Obama actually intends to include Republican ideas in his legislation.
"The honeymoon with Obama is now over," said Virginia committee member Morton Blackwell, predicting a backlash over the president's stimulus plan, a piece of legislation that aroused unanimous ire at the RNC meeting.
"I think past accomplishments are an indicator of future performance," said Texas GOP chair Tina Benkisser. "And looking at his record, he's a big-government liberal."
According Robin Smith, who heads the Tennessee Republican Party, Obama's efforts are mostly for show. She acknowledged the symbolism of his visits with Republicans on Capitol Hill, but said she was disappointed the stimulus package includes money for things like STD prevention programs.
"Much of politics is about marketing," she said of Obama's strategy. "Policies speak louder than decorum, and his match those of Pelosi and Reid."