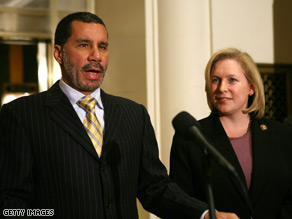 Gov. David Paterson eventually chose Rep. Kirsten Gillibrand to replace Hillary Clinton in the Senate.
(CNN) - A new poll suggests that New York Gov. David Paterson may be paying a price with voters for the way he handled  the choosing of a successor to replace Hillary Clinton as the state's junior U.S. Senator.
Thirty percent of those questioned in a Siena College survey of New York voters that was released today disapprove of the way Paterson is handling his job. That's Paterson's highest level of disapproval since he was sworn in as governor last March.
Fifty-four percent approve of the way Paterson is handling his job as governor, down ten points from last November, before Barack Obama announced that he was nominating Clinton to serve as secretary of state. That triggered a nearly two month long search by Paterson to determine a successor for Clinton, a process was often quite public and at times messy. Paterson eventually chose Rep. Kirsten Gillibrand after sources in his administration reportedly leaked negative information regarding Caroline Kennedy, who was considered a frontrunner to replace Clinton.
The poll indicates that Paterson is not getting rave reviews for how he handled the search, with 62 percent saying the Governor did a fair or poor job and only 33 percent feeling he did a good or excellent job. But 51 percent of those questioned favored Gillibrand's appointment, with 28 percent opposed.
Paterson is up for election as governor next November. He won election as lieutenant governor in the 2006 election and stepped up to the number one job in New York after then-Gov. Elliot Spitzer resigned last year in the wake of a prostitution scandal.
The Siena College poll was conducted Jan. 25-27, with 622 registered New York State voters questioned by telephone. The survey's sampling error is plus or minus 3.9 percentage points.