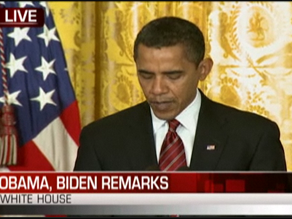 Watch the event on CNN.com/live.
WASHINGTON (CNN) - Facing new evidence of a darkening economic climate, President Barack Obama on Friday established a new middle class task force to assess the status of average-income Americans and recommend new ways to strengthen the economy.
The president also signed several executive orders to support organized labor, a key Democratic constituency.
Addressing an audience of business and union leaders in the White House, Obama said it is time for the the government to act "boldly and swiftly" to assist a struggling middle class.
"The American people expect us to act and that's exactly what I intend to do," he said.
The U.S. economy suffered its biggest slowdown in 26 years in the last three months of 2008, according to the government's first reading about the fourth quarter, released Friday.
Gross domestic product, the broadest measure of the nation's economic activity, fell at an annual rate of 3.8 percent in the quarter, adjusted for inflation.
The latest numbers are "a continuing disaster for America's working families," Obama said. "The recession is deepening ... and the economic crisis is growing."
The president's new Task Force of Middle Class Working Families, led by Vice President Joe Biden, will be composed of a panel of advisers and four Cabinet members. The task force will try to assess the status of the middle class - specifically whether it is growing or shrinking and how well off it is.
It is ultimately expected to issue a series of recommendations on how best to bolster the economic security of average-income Americans.
"A strong middle class equals a strong America," Biden said. It is critical to "raise the living standards of the people who are the backbone of this country."
The task force's first meeting is scheduled to be held on February 27 in Philadelphia. The meeting will focus on "green jobs," employment opportunities tied to renewable energy and environmentally friendly development.
Reaching out to organized labor - a critical component of his campaign coalition - Obama also reversed an executive order allowing unionized companies to post signs alerting employees that they are allowed to leave unions.
Labor unions are "not part of the problem," Obama said. They are "part of the solution."
Critics of the previous order said that while unionized shops were allowed to let workers know they could de-unionize, non-unionized shops were not required to post information telling employees they could unionize.
The president issued three additional orders as well.
The first requires service contractors at federal buildings to offer jobs to qualified current employees when contracts change. A second requires federal vendors with more than $100,000 in contracts to post workers' rights under the National Labor Relations Act.
A third order prevents federal contractors from being reimbursed for expenses that were intended to influence workers' decisions to form unions or engage in collective bargaining.
- CNN's Suzanne Malveaux contributed to this report