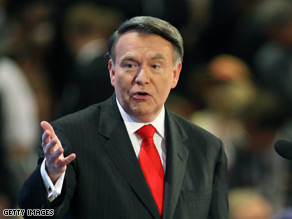 Duncan pulled out of the RNC chair race Friday.
WASHINGTON (CNN) - Republican Party chairman Mike Duncan, who was appointed to lead the party by George W. Bush in 2007, dropped his re-election bid on Friday, telling committee members: "Obviously the winds of change are blowing here at the RNC."
Duncan rose to address the 168-member committee after a three disappointing rounds of balloting in the chairman's election. He bled votes on every successive ballot, his support trickling to the other candidates in the race.
Despite the sometimes contentious nature of the campaign and criticism that the party suffered with him at the helm, Duncan told the crowd the race has been worth it.
"I thought this would be good for the party," he said. "And I think it has been."
With Duncan out of the running, the race comes down to four candidates: former Maryland Lt. Gov. Michael Steele, South Carolina GOP chairman Katon Dawson, Michigan GOP chairman Saul Anuzis and former Ohio Secretary of State Ken Blackwell.
Duncan earned a noisy round of applause when he said running the committee "has truly been the highlight of my life."
(Updated 2:32 pm)