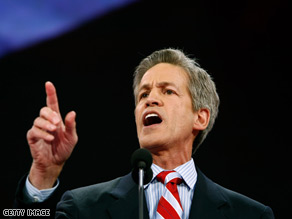 Coleman has been a courtroom visitor as proceedings continue.
ST. PAUL, Minnesota (CNN) - The courtroom battle over Minnesota's Senate race wraps up its first week Friday, beginning the day with the testimony of Ramsey County elections manager and former state elections director Joseph Mansky.
The first week has primarily been centered around presenting background information and details of the election process to the three-judge panel, and Mansky's testimony is no different.
Earlier in the week, Deputy Secretary of State Jim Gelbmann - a central figure in the both the election and the recount process - testified for about a day and a half on procedures and details, from the training of local election judges to the level of back-and-forth on a myriad of issues between each campaign during the recount.
The judges will ultimately decide the electoral fate of former Republican Sen. Norm Coleman - who's been in the courtroom all week - and Democrat Al Franken. Coleman is contesting recount results that gave the lead to Franken.
Coleman's attorneys say there are thousands of absentee ballots that were rejected erroneously that should be counted. They've brought a handful of voters to the witness stand this week in an effort to prove those votes were wrongfully excluded from the total.
Absentee ballots have been rejected for a number of reasons. The Coleman campaign has pointed to some that were rejected for technicalities like signatures on the ballot that don't match the signature on the ballot application, stickers that were accidentally placed askew on the ballot covering a signature, and instances where voters have occasionally signed below a signature line as opposed to on it.
The Franken campaign contends that some human error on the part of election workers is normal in any election, and does not constitute a valid reason to re-examine as many as 11,000 ballots, as the Coleman campaign has said they may request.
Franken lawyers are also looking to prove that in the past the Coleman campaign had argued against counting absentee ballots, long before they were for it. They say Coleman is now merely "casting a wider net" in the hopes that the more votes are included, the better the chance Coleman has.
The trial is expected to last weeks.