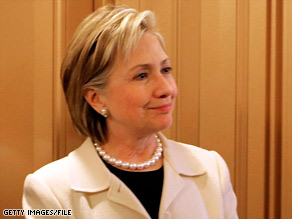 Hillary Clinton has forgiven her personal loan but owes vendors $5.9 million.
WASHINGTON (CNN) - Secretary of State Hillary Clinton rang in the new year still saddled with $5.9 million in debts left over from her unsuccessful 2008 presidential campaign, according to records filed Saturday with the Federal Election Commission.
The nation's top diplomat has been steadily chipping away at unpaid campaign bills since suspending her White House bid in June, when her debt peaked at $25.2 million.
That amount included both $12 million owed to vendors and the $13.2 million she loaned her campaign from personal funds.
Clinton's campaign was unable to repay that personal loan by the time the Democratic National Convention convened in Denver, Colorado, in August, the deadline mandated by the 2002 McCain-Feingold campaign finance law.
The former New York senator has since forgiven the entire loan amount, leaving only the $5.9 million owed to vendors on the campaign's books.