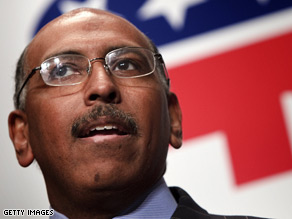 Michael Steele was chosen Friday as the first African-American leader of the Republican Party.
(CNN) -Michael Steele, the newly elected chairman of the Republican National Committee, said Sunday that there's a number of Republicans emerging who will "redefine this party in a way that will be very good for us long term."
In an interview on "Fox News Sunday," Steele was asked to name Republicans under the age of 50 who he sees as the new faces of the party.
Steele listed Louisiana Gov. Bobby Jindal, South Carolina Gov. Mark Sanford, Minnesota Gov. Tim Pawlenty and Alaska Gov. Sarah Palin.
Steele, who on Friday became the first African American to lead the RNC, said people have moved away from the Republican Party because "we behaved badly."
"It was about the fact that we failed to lead. We grew the size of government. When we're saying we believed in less government, we grew government. When we said we believe in less spending, we spent more," he said.
Steele said he thinks Republicans now have an opportunity to turn things around.
"That's my job, is to put good candidates in a position to win. Now, we're not going to win all of them, but we're going to start to win again in important races that matter, and we've got three of them coming up this year," he said, referring to a special election in the 20th Congressional District in New York and gubernatorial races in Virginia and New Jersey.
"We're going to be on the ground and engaged in all of those campaigns that are going to be important opportunities for us to re-establish the brand for the party, number one, but most especially, reacquaint ourselves with the voters and help them appreciate exactly what we stand for and what we believe, putting good candidates in a position to win."