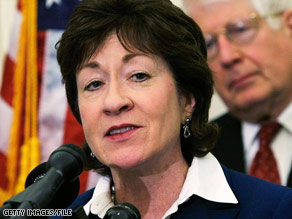 Sen. Susan Collins, R-Maine, says she wants to work on changes to the bill to attract moderate Republicans.
(CNN) - As the stimulus debate heads to the Senate, some lawmakers say the proposed economic rescue plan doesn't represent the bipartisan spirit that President Obama hoped would be behind it.
The House passed its version of the bill Wednesday, without a single Republican vote. Democrats admit it's going to be a tough fight to get Obama's economic stimulus plan passed with bipartisan support, but they are optimistic it can be done.
In the Senate, Republicans will have more of an opportunity for compromise, by offering amendments to the Democrats' bill. But it's not just Republicans who are unhappy. Some Democrats said the bill includes too many proposals that do not relate to stimulating the economy.
Sen. Ben Nelson, D-Nebraska, and Sen. Susan Collins, R-Maine, oppose the proposal in its current form and want to slash what they call wasteful spending from the bill, so moderate Republicans and conservative Democrats will be more likely to vote for it.
The two senators, known as consensus builders, have spent the weekend scrubbing the bill of spending that does not narrowly target job and economic growth.