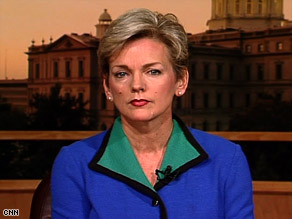 Gov. Jennifer Granholm says states need help immediately in order to face the economic crisis.
(CNN) - Michigan Gov. Jennifer Granholm on Sunday expressed confidence that the economic stimulus plan could help her state recover from the financial crisis, but she said Michigan needs the funds now.
In an interview on CNN's "State of the Union," Granholm cited a report by Mark Zandi, the cofounder of Moody's Economy.com, which said the stimulus plan would create more than 150,000 jobs for her state.
"Believe me, we are all about jobs. Those 140,000 jobs that were lost this past week, we see the impact of this every day, and I'm speaking not just for Michigan, but for governors across the country," the Democratic governor said. "We need help. We need it now. And it's not about budgets, it's about creating jobs in our states."
Asked her opinion on the more than $800 billion stimulus bill moving through Congress, Granholm said, "If things are in there that are not related to job creation, it should perhaps be in other bills. But this bill should be related to job creation and helping people get through this economic crisis."
She said her idea of a "good balance" is "a third toward making sure people are not being hurt, a third toward investing in job creation and a third towards tax cuts."
Granholm brushed off suggestions that it would take a while for funds to make any impact.
She said the House version of the stimulus bill allots about $900 million for infrastructure in Michigan.
"I have $20 billion worth of requests for shovel-ready projects that could have dirt flying within 180 days. Now, will it happen overnight? No. (For) us in the North, the ground is still frozen, but it certainly would happen within 180 days," she said.
Granholm said that if her state was given the funds, people could be put to work on infrastructure projects that she says would have a long-term impact on the nation's economy.
"I'll tell you what is necessary immediately is investment in infrastructure jobs, and jobs that we can put people to work in right now," she said.