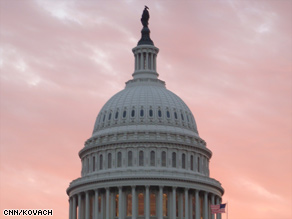 CNN: Daschle says he is 'deeply embarrassed' over tax issues
President Barack Obama's choice to oversee health care reform in his administration expressed regret Monday to Senate leaders over tax issues that are dogging his nomination.
CNN: McConnell: GOP senator wouldn't necessarily take Cabinet post
U.S. Sen. Judd Gregg won't take the job of commerce secretary in the Obama administration if his appointment would tip the Senate balance of power in favor of Democrats, the chamber's Republican leader said Sunday.
CNN: Commentary: A history lesson for Rush Limbaugh
On Thursday, Rush Limbaugh, the moral and intellectual leader and most influential person in the Republican Party in the United States, wrote in the august op-ed pages of The Wall Street Journal, the acknowledged epicenter of right-wing thought, that President Obama should adopt a bipartisan solution to address the president's economic stimulus plan - or as Limbaugh refers to it, "porkulus."
CNN: Obama gets laughs at Alfalfa dinner
President Barack Obama poked fun Saturday night at his chief of staff and ribbed Washington's elite during a black-tie dinner at Alfalfa Club, a 93-year-old Washington social club.
CNN: Clinton started 2009 with $6 million in debt
Secretary of State Hillary Clinton rang in the new year still saddled with $5.9 million in debts left over from her unsuccessful 2008 presidential campaign, according to records filed Saturday with the Federal Election Commission.
CNN: Granholm: We need help now
Michigan Gov. Jennifer Granholm on Sunday expressed confidence that the economic stimulus plan could help her state recover from the financial crisis, but she said Michigan needs the funds now.
CNN: New radio ads to hit Republicans on stimulus vote
House Democrats will begin running a series of radio ads Tuesday targeting 28 Republicans who voted against President Obama's economic recovery plan.
CNN: New RNC chief weighs in on future of the GOP
Michael Steele, the newly elected chairman of the Republican National Committee, said Sunday that there's a number of Republicans emerging who will "redefine this party in a way that will be very good for us long term."
CNN: Obama's half brother says he's been released from jail
George Obama, the half brother of President Obama, told CNN on Sunday that he was released from a Kenyan jail hours after his arrest for possession of marijuana.
CNN: Senators work for bipartisan support on stimulus
As the stimulus debate heads to the Senate, some lawmakers say the proposed economic rescue plan doesn't represent the bipartisan spirit that President Obama hoped would be behind it.
CNN: Ex-House GOP leadership member leaving Congress
Florida Rep. Adam Putnam, a former member of the House Republican leadership, said Sunday he will leave Congress to run for agriculture commissioner in his home state next year.
Minneapolis Star Tribune: Sarah Palin: The case for drilling in ANWR
I am dismayed that legislation has again been introduced in Congress to prohibit forever oil and gas development in the most promising unexplored petroleum province in North America - the coastal plain of the Arctic National Wildlife Refuge, in Alaska.
Times of London: 'Jimmy Carter' tag has Obama wincing
Less than two weeks into his administration, President Barack Obama is being portrayed by opponents as a new Jimmy Carter – weak at home and naive abroad – in an attempt to dim his post-election glow and ensure that he serves only one term.

Washington Post: Ohioans Seek Slice Of the Stimulus Pie
Perfect, the Cuyahoga County commissioners thought. Here they were, trying to score $28 million in federal stimulus money to build wind turbines on Lake Erie, when word arrived that Barack Obama was jetting into town on the eve of his inauguration.
CNN: Obama congratulates Iraqis for holding elections
In a statement issued Saturday, President Obama congratulated Iraqis for holding provincial elections.
CNN: President Obama prompting a DC renaissance?
President Barack Obama pledged to bring change to Washington.
Now that he's moved to town, local restaurant owners are hoping he'll keep his campaign promise.