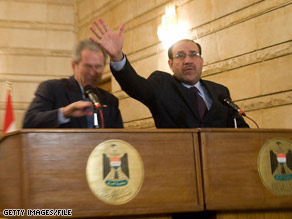 A recent shoe-throwing incident in the U.K. appeared to echo a similar incident late last year in Iraq involving then-President George W. Bush.
LONDON, England (CNN) - A student protester, who hurled a shoe at Chinese Premier Wen Jiabao as he was giving a speech at Cambridge University, has been charged with a "public order offense" and has a court date, police said Tuesday.
According to a university spokesman and a student newspaper reporter who witnessed the incident, the student tossed the shoe in the general direction of
Wen and shouted, "Why are you prostituting yourself? How can you listen to the
lies he is telling?"
The shoe was thrown toward the end of the speech and missed hitting the Chinese premier, according to eyewitness accounts.
Cameras filming the speech remained fixed on Wen during the incident, but video images later showed an unidentified student being escorted out of the building by a university proctor.
The student was then handed over to police, a university spokesman, who would not disclose his name due to "university regulations," told CNN.
"Fortunately, the incident did not spoil the event. The auditorium was full, with nearly 500 people present, of whom just one misbehaved," the spokesman said. "At no stage was there any serious threat to the premier or anyone else."
Cambridge police say the shoe thrower is a 27-year old man being held in custody at Ely Police station in Cambridge.
He has been charged with "a public order offense" and is due to appear at Cambridge Magistrates' Court on February 10, Cambridge police spokesman Emma Hardy told CNN on Tuesday.
The Chinese Ministry of Foreign Affairs said of the incident: "The Chinese side has expressed its strong feelings against the occurrence of the incident. The British side said that they are very sorry that the incident should have happened and the person will be dealt with according to law. Facts have shown that the despicable behavior of the perpetrator is extremely unpopular and can in no way stem the tide of the growing friendly relations and cooperation between China and Britain."
The incident occurred while Wen was speaking about China's role amid the global economic recession.
Monday's shoe-throwing incident echoed one in December, when an Iraqi journalist narrowly missed striking then-U.S. President George W. Bush during a news conference in Baghdad.
Updated: 9:35 a.m.