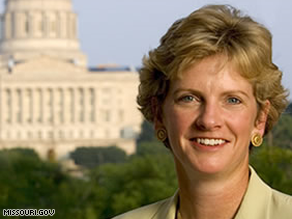 Carnahan is running for Senate.
(CNN) - Robin Carnahan, scion of a Missouri political dynasty, announced Tuesday she's running for the seat set to be vacated by longtime Missouri Sen. Kit Bond.
Carnahan, the current Democratic secretary of state in Missouri and the daughter of a former governor and senator from the state, said in a video posted on her Web site she wants to bring "common sense" to the United States Senate.
"Our country is facing tough economic times and threats to our security like never before. It's time we had elected leaders ready to stop the political bickering and start solving problems," she said in the statement.
Carnahan is the first candidate from either party to officially enter the 2010 race, and her star power in the state could clear the Democratic field of contenders vying for the seat held by Bond for more than two decades.
Carnahan's father, Mel, served as governor of the state from 1993-2000 and died in a plane crash while running for the U.S. Senate. Carnahan still won the seat, defeating then-Republican Sen. John Ashcroft, and his wife Jean held the post for two years. Carnahan's brother is a U.S. congressman representing the outskirts of St. Louis.
On the Republican side, former House Minority Whip Roy Blunt is reportedly considering getting into the race.
Bond, 69, announced earlier this month he would not seek a fifth Senate term.