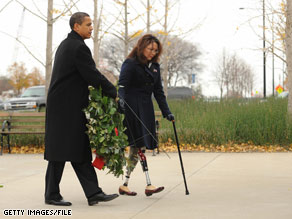 Pres. Obama plans to name Iraq war vet Tammy Duckworth to a post at the VA.
WASHINGTON (CNN) – President Obama plans to nominate Iraq war veteran Tammy Duckworth to a communications post at the Department of Veterans Affairs, the White House announced Tuesday.
"Effective communications with Veterans and VA's stakeholders is key to improving our services and ensuring Veterans receive the benefits they deserve," said VA Secretary Eric Shinseki said in a statement released by the White House "Tammy Duckworth brings significant talent, leadership and personal experience to this important work," added Shinseki.
Duckworth will be named the Assistant Secretary of Public and Intergovernmental Affairs for the VA. She will be responsible for public affairs, internal communications and intergovernmental relations, and will oversee programs for homeless veterans, consumer affairs and special rehabilitative events.
Duckworth lost both legs and partial use of one arm when a helicopter she was piloting was attacked by a rocket propelled grenade in Iraq. At the time, Duckworth was a major in the Illinois National Guard in Iraq.
She is currently the director of the Illinois Department of Veterans Affairs. In 2006, Duckworth mounted an unsuccessful bid to represent the state's 6th District in the House of Representatives.