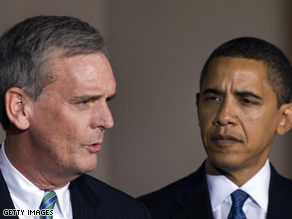 Obama formally nominated Sen. Judd Gregg to be the next commerce secretary.
WASHINGTON (CNN) - President Barack Obama nominated New Hampshire Republican Sen. Judd Gregg to head the Commerce Department Tuesday.
Watch: 'This is not a time for partisanship,' says Gregg
If confirmed, Gregg will be the third Republican to join Obama's cabinet, following Defense Secretary Robert Gates and Transportation Secretary Ray LaHood.
Obama first nominated New Mexico Gov. Bill Richardson to be commerce secretary. But Richardson withdrew in early January, citing the distraction of a federal investigation into ties to a company that has done business with his state.