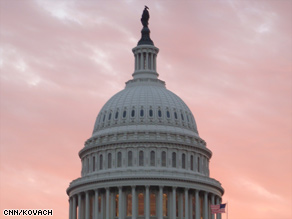 Obama: 'I screwed up' on Daschle appointment
WASHINGTON (CNN) - President Barack Obama on Tuesday admitted he made a mistake in handling the nomination of Tom Daschle as his Health and Human Services secretary, saying Daschle's tax problems sent a message that the politically powerful are treated differently from average people.
Blagojevich: 'I'm going to clear my name'
(CNN) - Rod Blagojevich, the former governor of Illinois, is still declaring his innocence, despite facing a criminal trial and the prospect of prison.
States to Congress: Stop squabbling and send help
(CNN) - Plagued by record budget deficits and massive job losses, local and state officials are looking to the federal government for immediate help.
Elizabeth Edwards plans new book
(CNN) — Elizabeth Edwards has largely avoided the spotlight since her husband admitted to an extramarital affair last summer, but the wife of former presidential candidate John Edwards is certain to draw headlines when she releases a personal new book this spring.
MN court issues ruling on rejected absentee ballots
(CNN) – A three-judge Minnesota court ruled Tuesday that approximately 4,800 out of a total of nearly 12,000 rejected absentee ballots would be considered in Republican Norm Coleman's effort to retain his Senate seat.
Steele announces transition team
(CNN) – Newly minted Republican National Committee Chairman Michael Steele announced his transition team Tuesday. The group is dominated by RNC members who backed the new leader during the election.
Ty 'retires' controversial Malia and Sasha dolls
(CNN) — Controversy forced the withdrawal of two more figures from the public scene Tuesday, but these were not named Daschle or Killefer.
McCain asks supporters to oppose stimulus bill
(CNN) –- Sen. John McCain enlists the help of online supporters through his political action committee, Country First. The former Republican presidential nominee tapped into his campaign lists Tuesday, asking supporters to sign a petition in protest of the economic stimulus package.
Bloomberg: Daschle Exit, Search for Successor, Will Delay Health Overhaul
Thomas A. Daschle's departure as President Barack Obama's choice as health chief is likely to delay for months the momentum for an overhaul of the U.S. system.
LA Times: A mystery portrait of Obama as a young man?
An Ojai couple bought the oil painting, which had been done by an obscure L.A. artist. But their efforts to find out if the future president was the subject have proved futile.
Washington Times: Bevy of books about Michelle Obama
Books about new first lady Michelle Obama are already on bookshelves worldwide in the early days of the Obama administration, and one dedicated solely to Mrs. Obama's "iconic" style is set for release this spring.
Washington Times: German embraces Clinton in election year
Foreign leaders' public friendships with top U.S. officials are back in fashion.
NYT: Despite Stimulus Debate, Some Senators Eye Global Conference
The Senate has been rushing to adopt the roughly $900 billion economic stimulus package with an eye toward President Obama's goal of finishing the bill by the end of next week. And debate in the Senate, including votes on amendments, is expected to carry through this weekend.
But some senators are hoping to wrap up work on the stimulus measure sooner than that, so they can head to a major gathering of world leaders in Germany: the annual Munich Security Conference, which is scheduled for this weekend.
USA Today: Kids shower Obama with 'Running the Country' advice
Scratch beneath the surface of children's cheerful exteriors these days and you'll find what's really on their minds: poverty, homelessness, war and global warming, but also cats, dogs, hand sanitizer and cafeteria food.
How do we know? They've unburdened themselves to the 44th president.