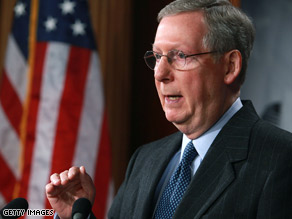 Sen. Mitch McConnell says his goal is to trim the stimulus bill and target it right at the problem.
(CNN) - The Senate's first attempt to make a change to the economic stimulus package failed Tuesday night, a sign that Republicans do have some power to change how the bill is structured.
The vote was on adding $24 billion in infrastructure spending on things like highways, mass transit and improvements to water and sewer systems. Had the amendment passed, the Senate's version of the economic stimulus package would have topped $900 billion.
The procedural vote that would have allowed the Senate to waive the budget rules and move forward on the amendment failed.
Democrats needed just two more votes to proceed on the amendment. The provision failed, with a vote of 58 in favor and 39 opposed. A three-fifths majority was required on the motion.
The vote was mostly along party lines. Only three senators broke ranks: Sen. Arlen Specter, R-Pennsylvania, and Sen. Kit Bond, R-Missouri, voted in favor of it; and Sen. Mary Landrieu, D-Louisiana, voted against it.