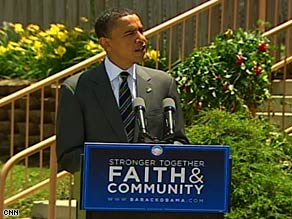 On the campaign trail, President Obama's views on federal money and discrimination seemed clear.
WASHINGTON (CNN) - President Obama's newly revamped Office of Faith Based Initiatives is reigniting a contentious debate across the ideological spectrum over whether religious organizations that accept funds from the government should be allowed to discriminate when hiring.
In one corner is a string of religion-backed organizations that have accepted federal funds from the 8-year-old program to advance their secular charity work. President Bush issued an executive order in 2002 that allowed these groups to continue their practice of discrimination with respect to hiring. Specifically, many of the organizations carry policies against hiring outside their religion or hiring homosexuals whose lifestyles conflict with church doctorines.
In the other corner are separation-of-church-and-state advocates and human-rights organizations that say the government must constitutionally compel these organizations to follow nondiscrimination laws if they accept federal funding. Anything less, they say, would at best be a violation of church-state separation and at worst an implicit endorsement of discrimination.