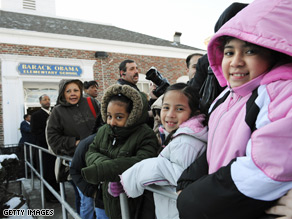 Students line up at the official ceremony to unveil the Barack Obama Elementary School sign.
(CNN) - Students at former Ludlum Elementary School made history when their school became the first in the nation to be renamed after President Barack Obama. It's virtually unheard of to name an educational institution after a sitting president. Students and parents gathered for the official name change ceremony Wednesday morning where the "Barack Obama Elementary School" sign was unveiled.
During the campaign season, the children became interested in the election, participating in mock presidential debates at the Long Island elementary school - which sits in close proximity to Hofstra University, the site of the final presidential debate.
They began the movement to officially change their school's name to honor the 44th president. Following the election, the Hempstead School Board voted unanimously to adopt the resolution after students read their written requests to make the name change permanent.
After the inauguration, all 466 students received navy sweatshirts from the school with the words "Yes We Can" emblazoned in English and Spanish. The school is roughly 60 percent Hispanic and 40 percent African-American.
President Obama was invited to the ceremony, but was unable to attend.