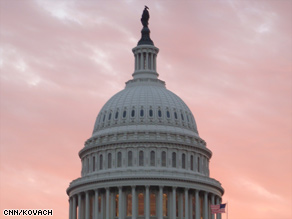 CNN: Senate eases 'Buy American' clause in stimulus
The Senate agreed Wednesday to soften a 'Buy American' provision in its economic stimulus package, clarifying that the clause will not override the United States' existing trade treaties.
CNN: Nation's mayors press Congress to act quickly on stimulus
Mayors from across the country descended on the nation's capital Wednesday with a clear message to Washington that their cities were in urgent need of an immediate economic stimulus.
CNNMoney: Overseer calls for bank bailout makeover
The $700 billion financial sector bailout needs an oversight makeover, according to a report that an oversight official will present to Congress on Thursday.
CNN: Unhappy voters jam Capitol Hill phone lines
The recent debate over the nearly $900 billion economic stimulus plan and revelations of tax problems by three Obama administration appointees have voters angrily jamming phone lines on Capitol Hill to air their frustrations to their elected representatives.
CNN: Palin takes on Ashley Judd's 'extreme fringe group'
Alaska governor Sarah Palin's support for aerial wolf-hunting has sparked a heated cross-country war of words between the governor and an environmental ad campaign fronted by the actress Ashley Judd, with Palin calling the organization funding the ads an "extreme fringe group."
CNN: Eliminating backlog of cases, paperwork among VA chief's priorities
The newly appointed head of the Department of Veterans Affairs said Wednesday the department needs a fundamental change in how it handles its paperwork.
CNN: Volcker calls for changes in financial regulatory system
One of President Obama's leading economic advisors called Wednesday for major changes in the way the financial system is regulated — especially firms whose failure could sink the nation's troubled economy — and warned that this oversight would come with a major price tag.
CNN: Early look shows GOP in trouble in Ohio
A new poll suggests that former Rep. Rob Portman has his work cut out for him to keep retiring Sen. George Voinovich's Ohio seat in Republican hands.
CNN: Obama warns of turning a 'crisis into a catastrophe'
President Obama warned Wednesday that failure to act immediately on his economic aid plan "will turn crisis into a catastrophe and guarantee a longer recession."
NYT: Daschle's Ambitions Collided, Friends Say
When Tom Daschle said he was quitting his lucrative consulting job to become President Obama's health secretary, an old Republican rival from the Senate, Trent Lott, teased him about giving up the good life.
NYT: The Pros and Cons of Admitting a Presidential Error
To anyone who has followed politics in Washington in recent years, the image of a sitting president admitting error is a striking shift. The presidencies of George W. Bush and Bill Clinton were marked by the resistance of both men to confessing mistakes; Mr. Bush's advisers long made it clear that he viewed such acknowledgments as akin to admitting weakness.
Chicago Tribune: Dispensing with messy democracy
Experience keeps a dear school," wrote Benjamin Franklin, "but fools will learn in no other." Right now, Americans are getting a crash course in the folly of our general approach to filling vacancies in the United States Senate. But so far, there is little evidence that we are learning the obvious lesson.
Politico: Michelle expands role as First Lady
In three short days, Michelle Obama has expanded on her role as mom-in-chief to take on new and somewhat unusual duties for a first lady – actively pitching her husband's economic stimulus package, now facing trouble in the Senate.
San Francisco Chronicle: GOP blames Pelosi for snag in stimulus bill
Senate Republicans blamed House Speaker Nancy Pelosi of San Francisco Wednesday for tripping up President Obama's $902 billion stimulus bill, as the giant legislation remained in the Senate, hostage to GOP demands for more tax cuts and less spending.