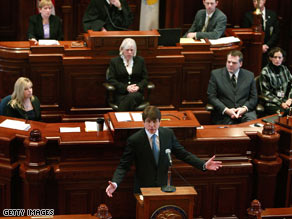 Former Gov. Rod Blagojevich speaks at his impeachment hearing after accusations he tried to sell a Senate seat.
WASHINGTON (CNN) - Since the election last November, five vacant Senate seats have been filled by appointments. Awkwardly.
Illinois: Barack Obama's seat. Then-Gov. Rod Blagojevich, who had been arrested on a criminal complaint for attempting to sell the seat, defied the Senate and appointed former Illinois Attorney General Roland Burris. The Senate could find no legal way to block the appointment. Blagojevich was subsequently impeached and removed from office.
New York: Hillary Clinton's seat. Caroline Kennedy campaigned for the Senate and got some rough treatment by the New York media. She lost ground in the polls and ultimately withdrew from the race after becoming the target of anonymous attacks.
Gov. David Paterson appointed Rep. Kirsten Gillibrand, a relatively unknown upstate congresswoman. Asked their opinion of the way Paterson handled the appointment, New Yorkers were split - 44 percent approved, 42 percent disapproved - in a Quinnipiac College poll.