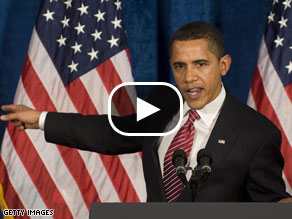 Watch the President's spirited defense of the Democratic stimulus package being considered by the Senate.
WILLIAMSBURG, Virginia (CNN) - President Barack Obama said Thursday that "the scale and the scope" of his economic plan is right, turning up the heat on critics he said were hawking "phony arguments" and "false theories of the past" to chip away at the bill's programs.
Watch: The President comes out swinging
"Don't come to the table with the same tired arguments and worn ideas that helped to create this crisis," the president said at the House Democrats' annual retreat in Williamsburg.
"We're not going to get relief by turning back to the very same policies that, for the last eight years, doubled the national debt and threw our economy into a tailspin," he said. "We can't embrace the losing formula that says only tax cuts will work for every problem we face, that ignores critical challenges like our addiction to foreign oil, or the soaring cost of health care, or failing schools and crumbling bridges and roads and levees.
"I don't care whether you're driving a hybrid or an SUV - if you're headed for a cliff, you've got to change direction."
The Democrats welcomed the president with frequent interruptions for applause as he took on criticisms of the bill.