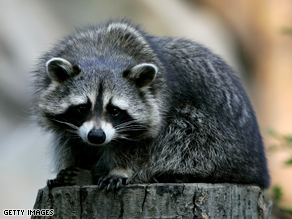 One large raccoon and several smaller ones have invaded the White House grounds.
(CNN) - In the ongoing battle between a pack of particularly ambitious raccoons and the White House groundskeepers, the raccoons appear to be winning.
According to White House spokesman Robert Gibbs, no raccoons have been caught on the White House grounds since the band of intruders were first spotted roaming the premises earlier this month.
The National Parks service set up several traps around the White House lawn earlier this week after determining one large raccoon and several smaller ones were causing trouble around the West Wing and the Executive Mansion.
If and when the raccoons are caught they will be released into the wild, the National Park Service has said.
But the traps, which include peanut butter and apples as bait, have yet to allure any of the pesky mammals.
"No raccoons that I know of have been caught or disbursed into other places in Washington," said Gibbs.
The White House press secretary also said he would be of little use in the hunt: "There are a few that roam in my backyard, so I don't have any particular tips."