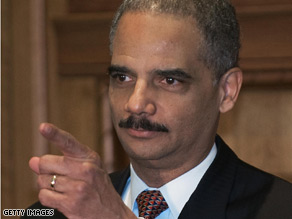 Attorney general Eric Holder has instructed the department's top lawyers to begin the review promptly.
WASHINGTON (CNN) - Attorney General Eric Holder Monday ordered a complete review of all cases in which the Justice Department under his Republican predecessors had invoked claims of a "state secrets" privilege to protect classified government programs from lawsuits.
Holder has instructed the department's top lawyers to begin the review promptly "to ensure that it is being invoked only in legally appropriate situations," department spokesman Matt Miller said..
Holder's instructions stressed, "It is vital that we protect information that if released could jeopardize national security, but the Justice Department will ensure that it is not invoked to hide from the American people information about their government's actions that they have a right to know," Miller said.
Holder's action came as his prosecutors were in a federal appeals court in San Francisco to argue in support of the Justice Department's previous invocation of the state secret defense in a legal challenge to the government's "extraordinary rendition" program in which foreign terrorism suspects were flown from one country to another for questioning, sometimes where harsher procedures could be used.
The American Civil Liberties Union, which has been pressing the Obama administration to drop the state secrets claim, issued a blistering statement Monday.
"Eric Holder's Justice Department stood up in court today and said that it would continue the Bush policy of invoking state secrets to hide the reprehensible history of torture, rendition, and the most grievous human rights violations committed by the American government. This is not change. This is more of the same," said ACLU Executive Director Anthony Romero.
"Candidate Obama ran on a platform that would reform the abuse of state secrets, but President Obama's Justice Department has disappointingly reneged on that important civil liberties issue," Romero said.